One of the main struggles most new moms face in the morning during pregnancy is getting dressed. How can we style our ever-growing bumps, swollen ankles, and larger-than-life bosom in a way that makes us feel feminine? Well, that problem doesn't go away entirely once the baby is born and our bumps are gone. If you're a new mama and exclusively breastfeeding, you're starting to realize that your wardrobe is just as limited as it was during pregnancy. 
Lucky for you, I've been through it and I discovered these secrets to maintaining a sense of style and feeling feminine while exclusively breastfeeding!
The best thing about these tips? You can master this dress code with the clothing you already own! 
Bright Colours
My breastfeeding-friendly 'proper' wardrobe is limited and I don't have all the time in the world for doing laundry when my baby pukes up all over me. So, I like to save my best garments for the weekends and days out running errands. Or simply a random day where I felt like dressing up a little.
My secret weapon are bright colours! Pinks and yellows are ultra feminine and can make very boring outfits shine. A bright jumper or t-shirt paired with a pair of tailored trousers or jeans can just transform your whole look and give you a feeling of put togetherness and style.
We all have a mish mash of one-off brights in our wardrobe that probably don't get worn, so now is the time to embrace these underused garments.
Luxury Sleepwear
For the first while, it's easier to pop on old t-shirts, your husband's flannel shirts and that oversized jumper you lived in for the last month of your pregnancy. It can be hard to let go of these old familiars at a time when you feel vulnerable. But trust me, if you're reading this post it's because you had a moment where you looked in the mirror and couldn't recognize yourself. In spite of the sleep deprivation and the leaky nips, you know it's time to feel sexy again. A luxurious set of pyjamas is the ultimate treat for a new mom. Put them at the top of your baby shower registry or make the investment and purchase a few pairs online. A satin button-down pyjama is ideal for feeling stylish while breastfeeding. You'll be extra thankful to have these on hand if you plan on having another baby — just skip the icky phase altogether.
My favourite set is from Bluebella – nice and roomy but effortlessly elegant. 
Camisoles in Every Colour
Not a fan of those breastfeeding t-shirts with the flap? Yep, me neither. When I want to wear a sweater or blouse that doesn't open at the boob, I pop on a camisole underneath in the same colour to create a seamless look. It prevents my bare tummy from becoming exposed any time I want to feed my daughter in public and smooths down all my new lumps. If you opt for camisoles with hidden support, you can even leave the nursing bra at home (which is very important if you feel a little self-conscious about your new larger bust).
Button-Down EVERYTHING
This is a no-brainer and most 'nursing-friendly' categories on online retailers will showcase a lot of button-down shirts, dresses, and blouses. The best thing about button-down items is how versatile they are. Paired with jeans, trousers, or skirts, the combination always looks elegant and put together. A button-down blouse is also an excellent way to look like you made an effort this morning when you got dressed. It's a great pick-me-up for new moms who are stuck in their sweatpants. 
I especially love how a button-down shirt can stay tucked into the waistline of my jeans and I avoid feeling like I'm constantly getting undressed everytime I feed my baby. Shirts can also be layered with camisoles and cardigans for colder months, making them ideal year-round.
Accessorize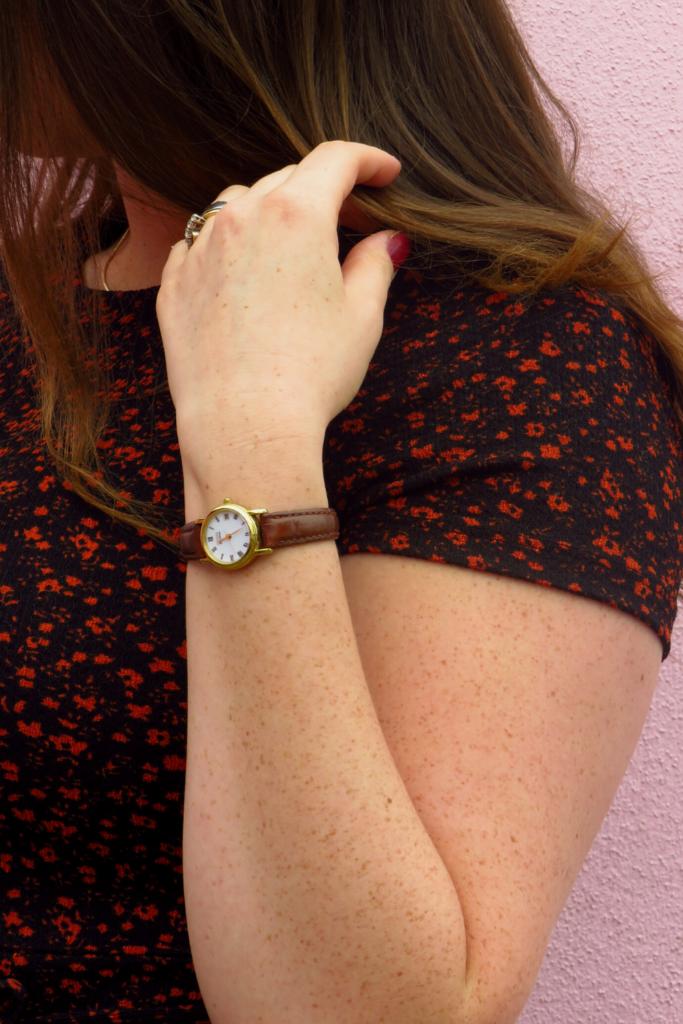 Having little hands near your face all day means constant tugging on, well… everything. Your hair, ears, clothes… it's open season on mommy. Obviously, you can't wear hoops or your finest diamond pieces, but some stud earrings, a dainty pendant necklace, and some hair barettes will add little notes of femininity to your casual outfit.
Opt for pearls with your half-zip fleece for an old-money aesthetic and pull the front of your hair back with some clips to keep the strands away from clenched newborn fists.
Dresses With A Front Opening
A dress is timeless, elegant, and so versatile. Dresses are a whole outfit in one garment, also adding to their appeal for busy mothers. Any style with a front opening can work, allowing you to feel more like your feminine self while caring for your little one's needs.
Easily transform your summer dresses for the colder months with a pair of tights and knee-high boots.
Beautiful Bras
After six months of breastfeeding, your little one won't need the boob quite so often which means your cup size will start changing. This is a great opportunity to treat yourself to a couple of new beautiful bras that make you feel like you're put together. If you're anything like me and becoming a mother has resulted in permanently larger breasts, then finding feminine undergarments in awkward sizes is a real challenge. When you don't fit into the classic AA-DD sizes, it can feel defeating shopping for your new bust.
My go-tos for DD+ bra shopping are Bluebella, Ivory Rose, and Pour Moi  when I want something comfortable and beautiful. 
Style Your Hair
Or do your makeup. Or both. It doesn't matter if it's a full blowout or a quick half-up half-down hairstyle, but doing something with your hair every morning will give you back some confidence.
A quick rub with the hair straightener on your face framing hairs will elevate your natural hair instantly, but keep the heat on medium to avoid pancake hair.
The same goes for your makeup, a little can go a long way so don't skip the mascara.