Ardent Fancy has put together The 4th Trimester Survival Kit for new mothers, so get ready to take notes.
What is the fourth trimester, and is it even a thing? 
New mothers will tell you the fourth trimester is real. The fourth trimester is the three month period following labor. During this trimester, your body essentially 'bounces back' to something semi-familiar after nine months of accelerated growth and change. New moms experience a lot of highs and lows and crazy changes, alongside adjusting to life as a new parent. 
While you were the center of attention during pregnancy, after your baby is born this is no longer the case and you might feel forgotten. Just as you went shopping for your hospital bag and nursery furniture, carve out time to gather items for your postpartum support.
The 4th Trimester Survival Kit is filled with helpful tools to support your postpartum journey, helping you transition to motherhood like a pro!
Really Nice Pajamas – and a lot of them!
Awake all day and awake all night, there's really no let-up in the fourth trimester with your little one. Several sets of luxury and feminine pajamas should be at the top of your baby registry and the first item in your survival kit. Spending your days in and out of delirium is made that much worse by sloppy, thrown-together pjs that don't even fit correctly. A satin pantsuit is breezy, soothing to the skin, and nursing-friendly, allowing you to sit for hours at a time and feel like royalty while doing it. I recommend having several sets of pajamas because the fourth trimester typically includes night sweats, leaky nipples, and spit-up from a newborn. 
Thanks to the internet, there are plenty of affordable options available which are just as nice as more expensive versions. Bluebella has created my favorite set: 

Black Briefs
At a time like this, you need to feel secure and a little sexy in your postpartum body. Simple black underwear in a brief style can hide a lot, giving you more confidence as you return to normal clothing and transition from those postpartum briefs. A seamless or non-elasticated style is the best version to avoid the dreaded underwear lines that can show through leggings or some jeans. Black briefs provide the same support and comfort of huge panties, but without feeling like your grandmother. 

A Hydration Regime
One of the most unexpected postpartum side effects is how dehydrated and dry you will become. Everything from your skin, hair, and nails, to down there will be drier than the Sahara for quite some time. In your fourth-trimester survival kit, Ardent Fancy recommends tackling this phenomenon with a strict skincare routine and plenty of water. Sheet masks soaked in highly potent serums and essences are an absolute must in your fourth-trimester survival kit and even in your hospital bag. You can sleep in most sheet masks, reaping the benefits of their super hydrating serums all night long. My all-time favorite sheet mask is the Skin79 Seoul Girl's Beauty Secret Mask. And my ride or die moisturizer has to be Nivea Creme for full-body hydration. I use this stuff often and liberally on myself and my kids. 
Pro tip: Buy sheet masks in bulk and use each mask at least twice. Once you're happy with absorption, pop it back into the sachet to soak up the extra essence, leaving it in the fridge until next time. 
A Water Flask
A thermos water flask or a water jug will be your best friend during the fourth trimester. Especially one that keeps your water chilled and fresh for those long nights of cluster feeding. The neverending thirst is real, especially in the beginning. Keep your bottle topped up for those long feeding sessions.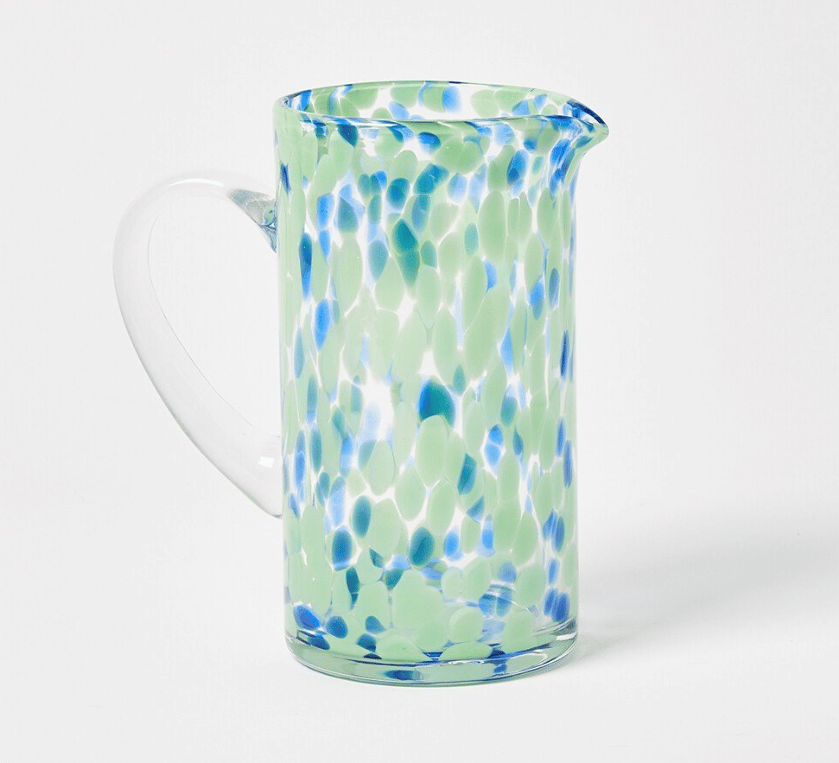 An Intensive Hair Mask
Just like with your skincare, you'll thank yourself for stocking up on your favorite hair masks and conditioners for your fourth trimester survival kit. Taking a shower is harder to schedule in so make it worth your while with a hair mask every time. My favourite is the Garnier Ultimate Blends Hair Food Banana Mask for its intoxicating scent and instant results. Without trying to sound corny, I was really impressed the first time I used this!
Audible Membership
A subscription to Audible is a priceless resource to have in your fourth trimester survival kit. It's both inexpensive and inexhaustible. Every month includes a credit to spend on a audio book of your choice. It's perfect for long hours of feeding or cuddling your newborn, giving you the opportunity to learn something new or indulge in your favourite fiction. For me, listening to Pride & Prejudice or tales of Middle Earth is the ultimate luxury.
Slow Cooker
Meal prepping is essential for new moms and if you don't already have one, add a slow cooker to your fourth-trimester survival kit shopping list. Nourishing postpartum meals are the cornerstone of success in these early days as you experience unworldly hunger and fatigue like never before. Fill up on pulled pork, slow-cooked chili con carne, and succulent chicken breast as high-quality sources of protein in your 4th trimester diet.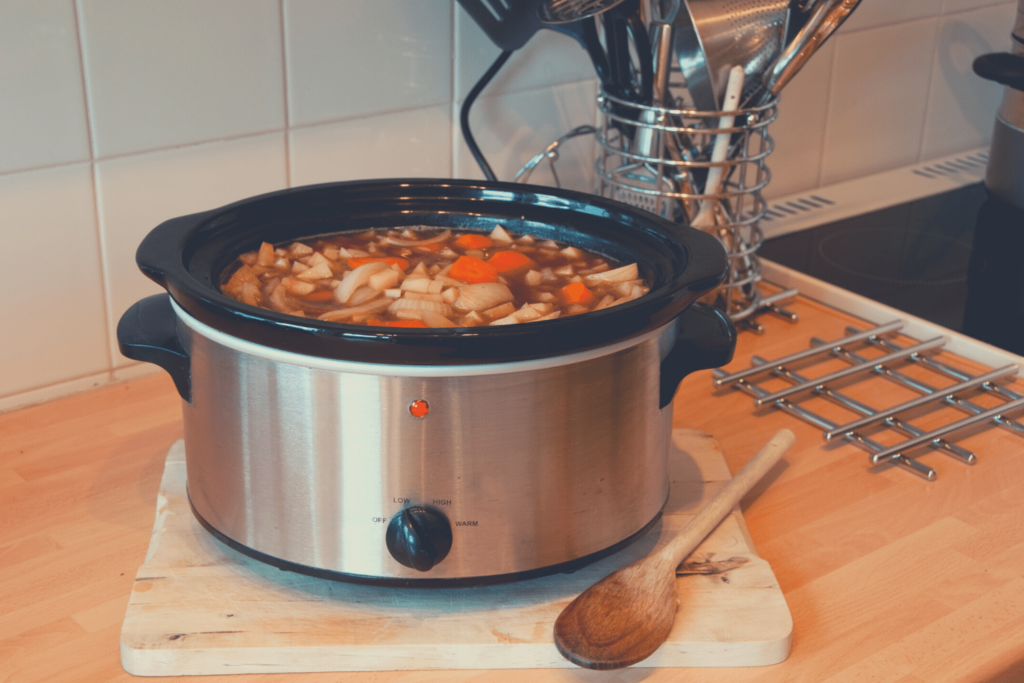 Pro tip: Batch cook beef stews, soups, and meaty dishes in your slow cooker before the baby is born, and stockpile frozen meals for postpartum life that are ready to thaw, heat, and eat.   
Discover Ardent Fancy's 4th Trimester Survival Kit Checklist to take with you when you go shopping! We've added a few extra items that we think you might need and feel free to add your own!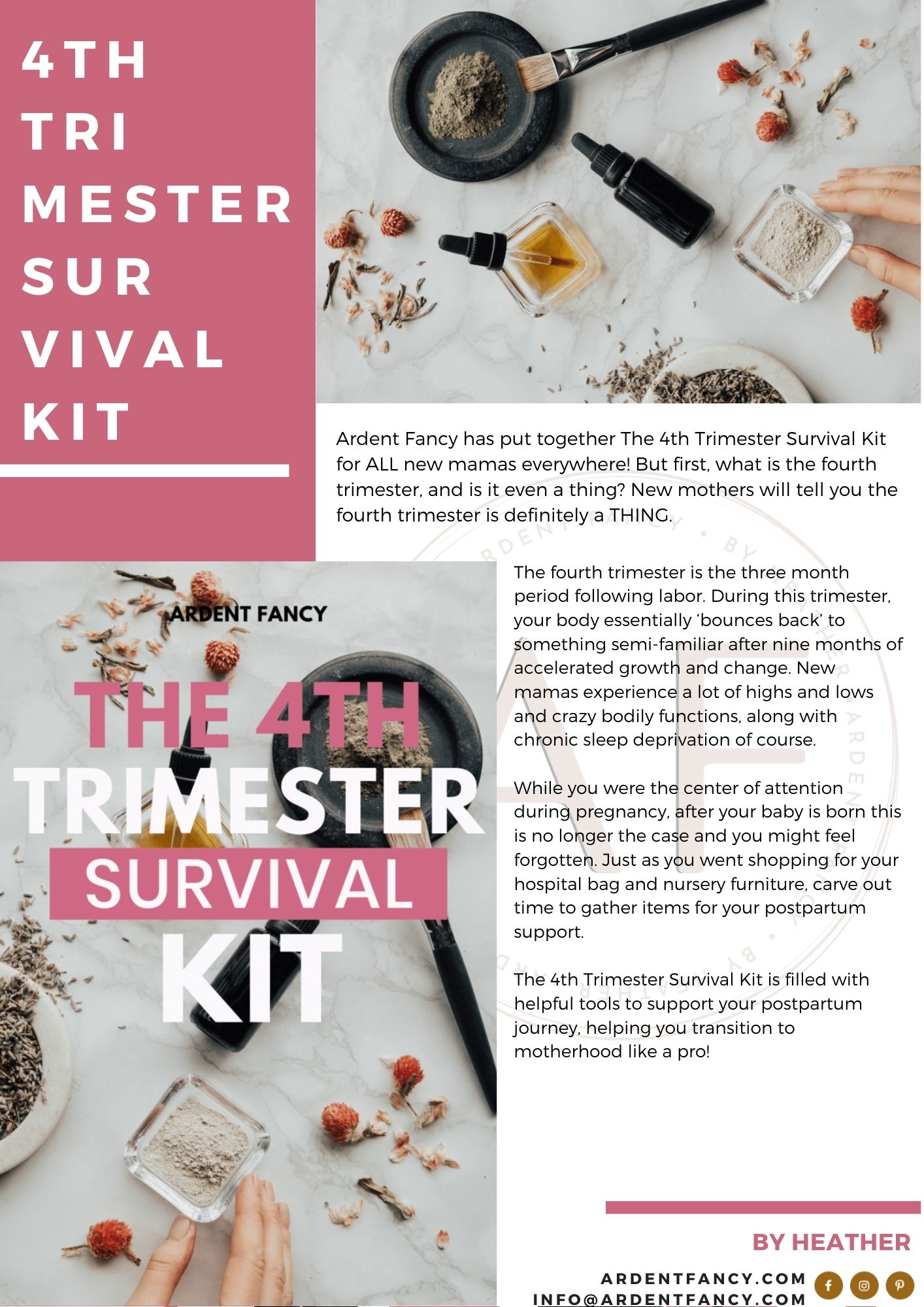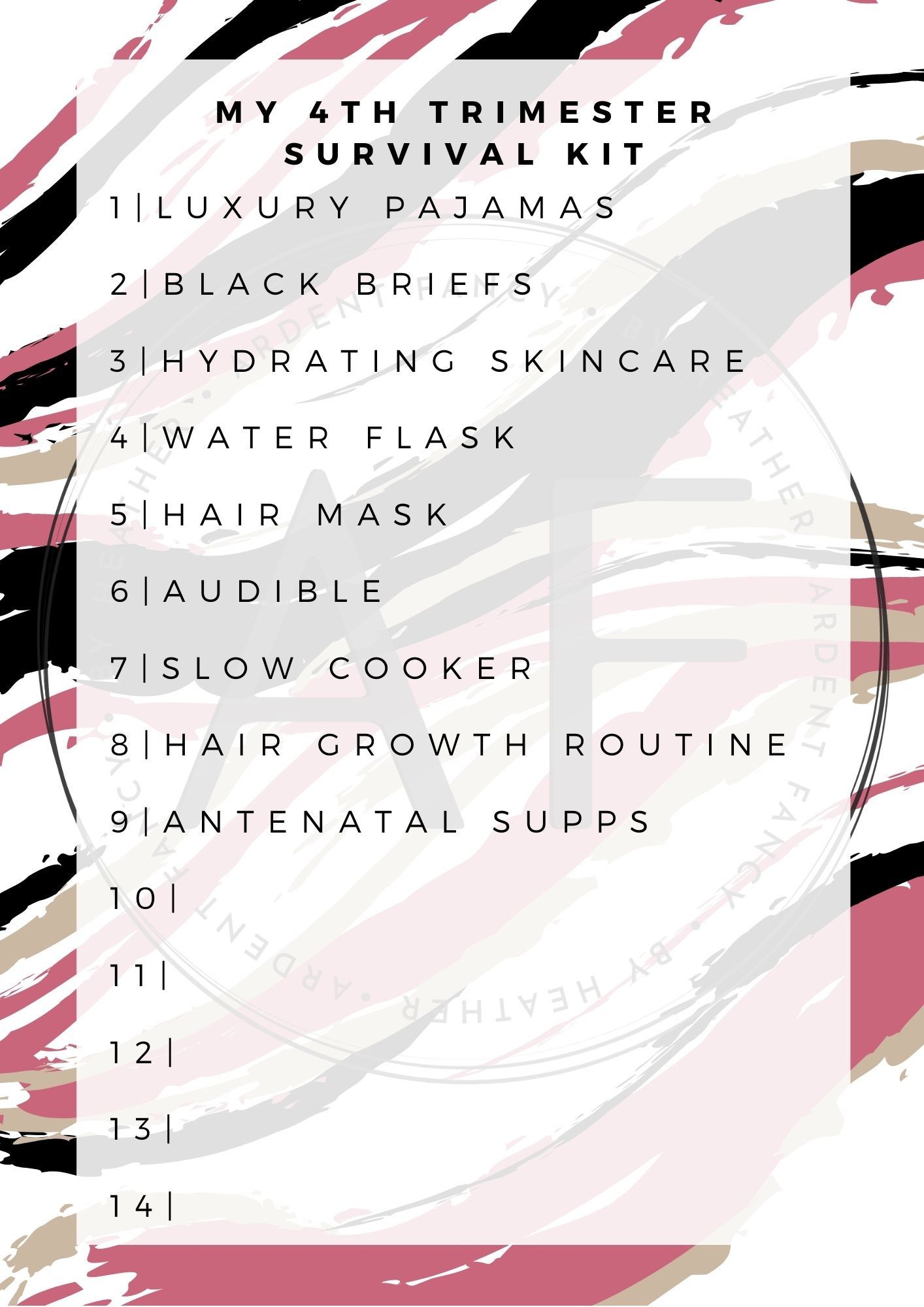 If you love this post, don't forget to hit the 'Like' button and browse Ardent Fancy for more great content.