Maybe clothes don't mean much to you and you're a happy clam in yoga pants, or maybe you're like me and obsessed with style and fashion. After baby number one, I found getting dressed one of my greatest challenges. All of my beloved clothes either didn't fit my new and improved bust or they just didn't work for breastfeeding. Looking good and staying classy while breastfeeding was a challenge. (Let's also not forget that new and improved gut too)
I knew what I was getting into the second time around and it's been much easier. I also have different preferences and have found a very happy medium with outfits that feel put together and stylish while keeping the comfort of athleisure.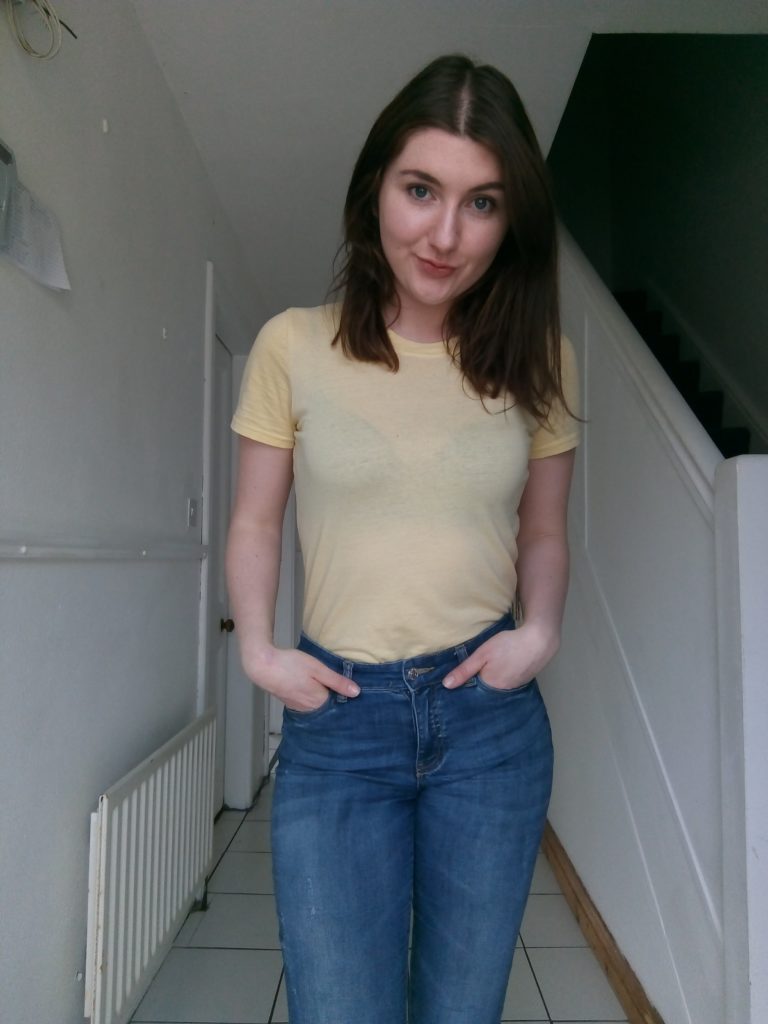 Forget the Blouses
I know I've recommended wearing blouses and shirts while breastfeeding, but this time around, I just can't deal with buttons and collars and sleeves that don't stay rolled up. I find them uncomfortable for running after a toddler and playing on the floor with a baby as I need to keep adjusting it.
I am a total t-shirt or cute top convert. Pulling a t-shirt up to feed my baby in public is a lot more comfortable than exposing my whole chest with a button-down. One of my favourite outfit pieces is this cute cardigan. I wear it like a sweater – always buttoned – and just pull it up for feeds. An oversized shirt is an exception to the rule here.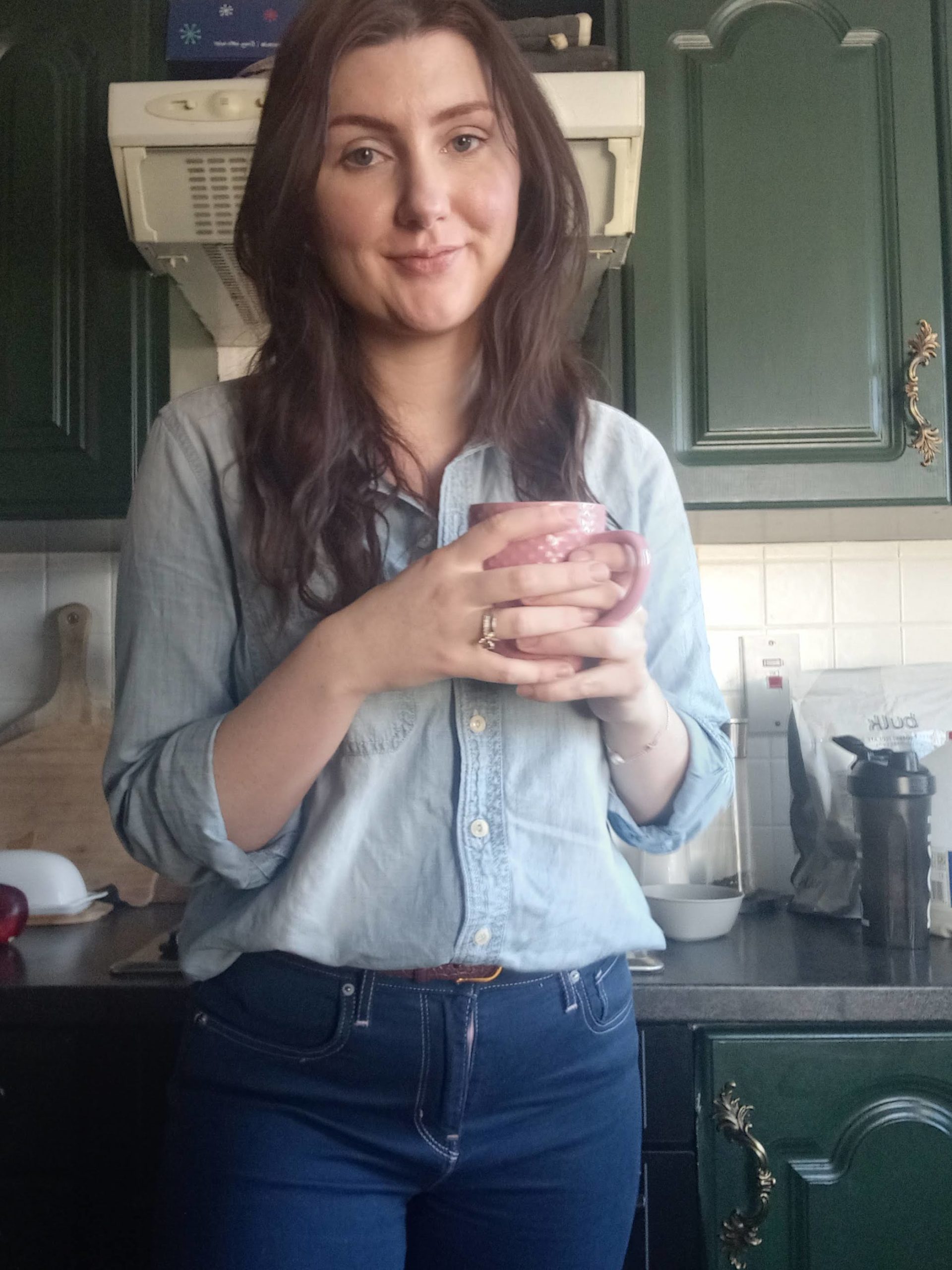 Another death knell for the blouse? Baby dribble! I used to tear my hair out trying to protect my clothes while feeding my baby. Even when they get older, they will still dribble a bit during feeds and that means walking around with milky patches on my chest all day or constantly changing clothes. No thank you. 
Skirts
Because I'm all about separates this time around, I've fallen back in love with skirts. When I was a younger 20-something in college, I loved wearing cute (short) preppy skirts. While I don't do short short anymore, I've realised that I can still wear skirts and feel ready to get down and dirty with my kids.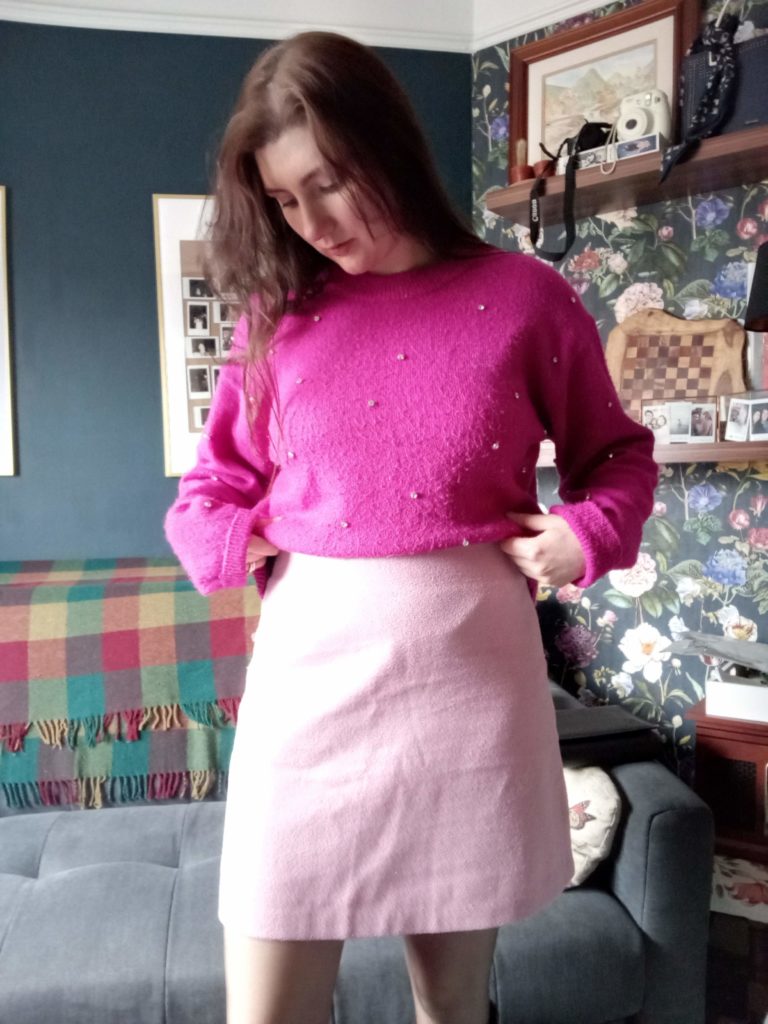 A cute a-line that hits right above the knee is my go-to style of skirt, paired with a t-shirt or aforementioned cardi. For a cozier look, I add a blazer and knee-high boots. In the summer, a plain white tee and flat sandals will bring this simple outfit to life.
Longer midi skirts are also a great option and I can't wait to get my hands on a silk slip skirt. I've resisted this trend for years but I'm finally ready to add it to my repertoire. I LOVE this look but I won't be going for a printed style. My style preferences is always simple, pared back, and in blocks of colour.
Winter Clothes
If you have any control over when you're getting pregnant and having a baby, I strongly recommend getting pregnant in the winter and having your baby in the summer. Wearing a light summer dress with a big bump is so easy!
I love a cozy jumper with jeans! The only drawback for me is not being able to wear any of my jumper dresses as they don't open in the chest.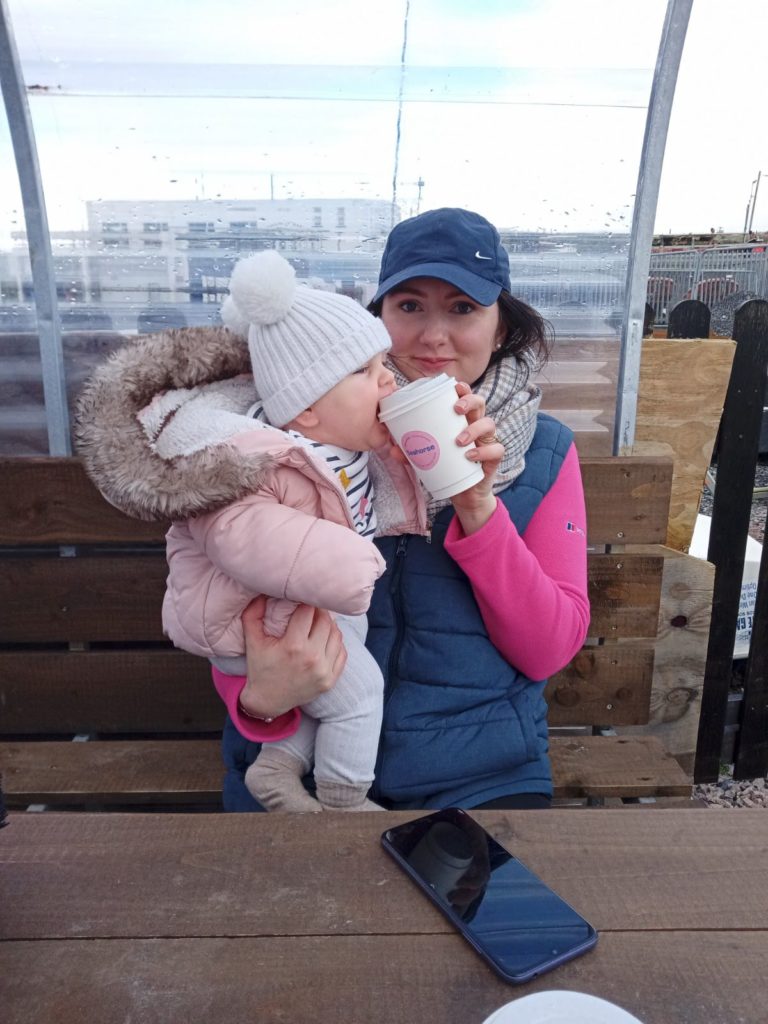 Another reason to plan for a summer baby is postpartum hair loss. It's early February and it's still very much hat weather, which is great for hiding all my tufts and spiky baby hairs.
Light-Coloured Trousers and Jeans
Another unexpected recommendation is light-coloured trousers and denim jeans. Soft blue, vintage blue, white, ecru… go light. Baby dribble strikes again and this time, it can mean big milky patches on your trousers. Maybe you didn't even realise they'd spit up and it's too late to prevent staining or it's been a long day and the grubby hands are coming from all sides.
I wear a lot of navy trousers but I can't deny that these get washed the most. My white jeans actually fare much better with kids. Baby dribble marks don't stand out as much.
It's All About The Footwear (and coats)
My secret to giving my very simple outfit formulas some dazzle is all in the footwear. I've given up wearing heeled shoes for the foreseeable so my flat shoes really have to work double-time.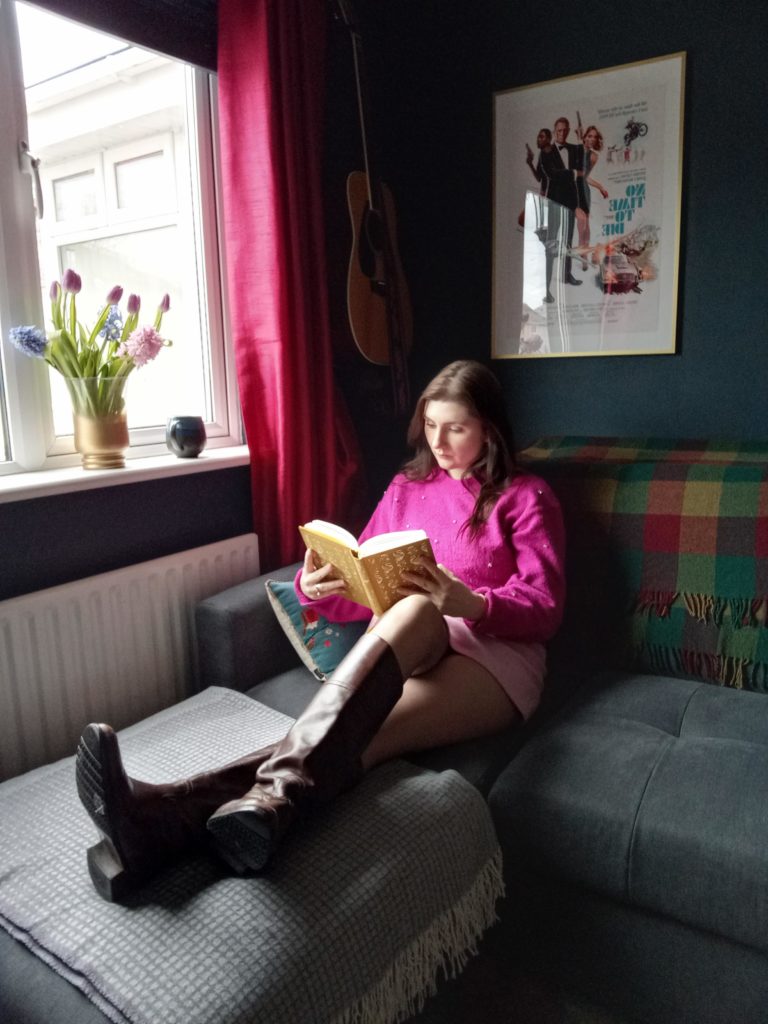 Cute loafers, brown leather knee-high boots, brogues, slides… they all say classy, elegant, stylish. Running shoes and plastic-looking things don't. 
A great jacket or coat will also elevate your outfit for when you leave the house, giving you an effortless style. Opt for tailored or structured pieces rather than sporty items.
A blazer is warm but not chunky and gives extra shelter and privacy during public feeds. I practically live in this light beige blazer at the moment.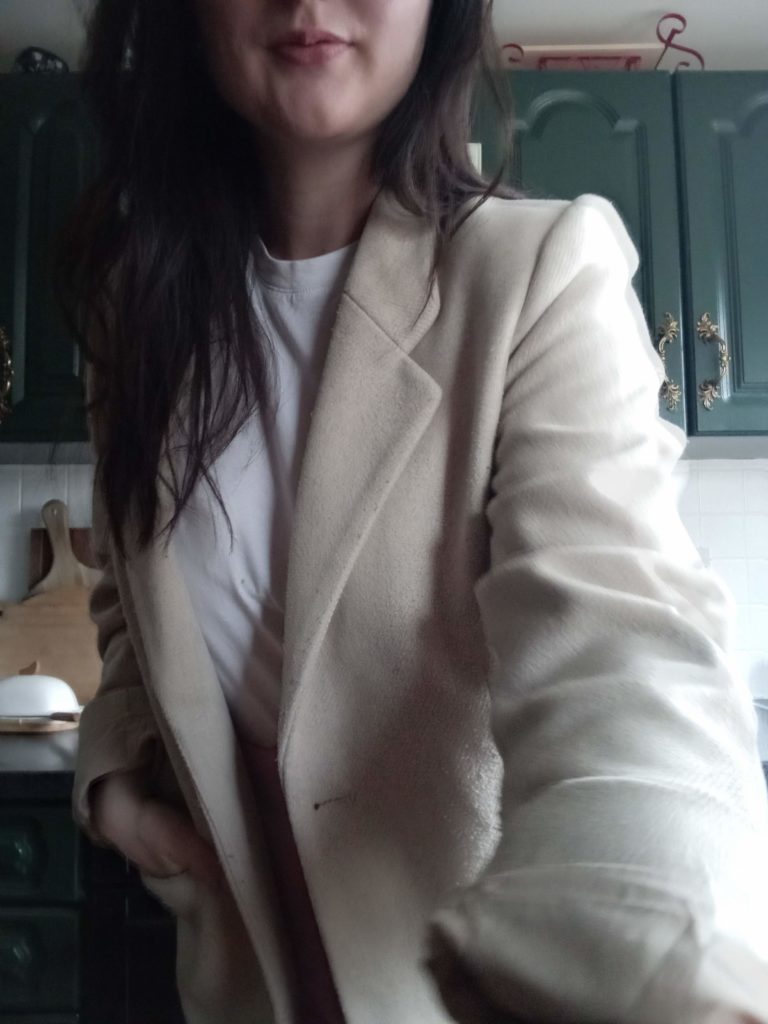 For more ideas like this, check out my original post on feeling stylish as a breastfeeding mom here.